Professional Floor Cleaning & Waxing
Our solid surface, vinyl, or vinyl tile composite (VTC) commercial flooring stripping and waxing services are performed by our trained specialists to ensure the best possible results. If you need your commercial floors stripped and waxed, call Clean N Dry and schedule today. We are happy to come out and provide you with a free estimate.
757-499-7100
Three Levels of Waxing and Stripping 
We offer three levels of service in stripping and waxing for solid surface commercial flooring depending on the age and shape of the floors. Our three levels include:
1. Full Restorative Stripping and Waxing Service
This service is most commonly performed on existing floors that experience high traffic in commercial applications and/or floors that have not been re-waxed soon enough after their initial wax or after a thorough stripping and waxing service. This service offers stripping of existing wax down to the solid surface, cleaning the base surface, and re-waxing the floor in multiple coats for maximum durability, then finally burnish buffing at 1,500 RPM to a high gloss, durable shine. This should be maintained with a deep clean and re-wax or a deep clean and high speed burnish every 3 to 6 months, depending on traffic.
2. Deep Clean & Re-Wax Service or Deep Clean & High Speed Burnish Service
These are perfect for solid surface waxed floors that are still in decent shape and are just starting to show signs of wear such as yellowing, dullness, scratches, and scuff marks. This is the ideal time to have solid surface floors deep cleaned and re-waxed or deep cleaned and burnished to a shine. Our technicians can help you determine which is best for your floors and answer any questions you may have. We offer maintenance plans and packages to ensure a year-round high quality, clean look for our commercial clients.
3. Floor Birth Initial Clean & Wax Service
Our floor birth initial clean and wax service provides new solid surface, vinyl, and VTC or vinyl tile composite floors with the proper amount of wax and burnish to remain durable with a high polished shine. In order to protect the investment of new
VTC floors and solid surface floors
, the initial requirement is between
3 and 5 coats of wax
carefully and evenly applied, followed by high speed burnish buffing to a high gloss shine. This should be maintained every 3 to 6 months with a maintenance deep clean and re-wax or deep clean and burnish, depending on traffic, to maintain their condition and shine. Having your floors treated properly from the start will ensure the best life and the best look of quality flooring.
High Gloss, No Slip, Durable Shine Floors
Our high speed burnish hot buffs the wax at 1,500 RPM to ensure the commercial quality high gloss and durable shine your vinyl floors are capable of.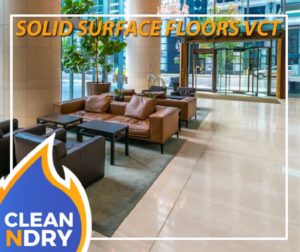 For all our solid surface, VTC and vinyl floor clients, we highly recommend a neutral PH cleaner between professional services to maintain clean floors without breaking down the wax, protection and shine prematurely. It's always our goal to bring your floors to their best possible shape and look with a gorgeous and consistent no-slip shine. High traffic, we've got your number. For our residential customers who may have VTC in their homes, we will happily provide you and your floors the commercial treatment to protect the life of your investment.
757-499-7100